We bid a sad farewell to long-time member and past president Sydney Pietsch Kenny, 74, who passed away in June at her Kane'ohe home surrounded by family. "I joined ARCS because of the people I met; I stay active because of the work we do to support young scientists," she said when honored with the ARCS Light Award in 2013. "They are working to improve the quality of life for all of us. When one comes back to tell us what a difference the ARCS award made in their life, I am very proud and gratified."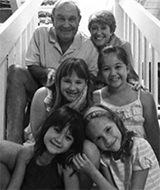 Born in Honolulu and educated at Punahou School and the University of the Pacific, Syd raised two children with her high school sweetheart and worked as a Bank of Hawai'i trust officer. After several years on her own, a chance meeting with former Punahou teacher Robert Kenny (who'd given her a D in history) led to marriage and many years of fun together. She was devoted to her four granddaughters and loved Christmas, baking cookies and creating personalized holiday egg ornaments. Always generous, Syd assisted one elderly client with medial and financial issues long after retirement and helped with ARCS Honolulu fundraising events, bringing sister Tracy Pietsch along as guest and volunteer. She was also involved in Junior League of Honolulu, P.E.O International and Hawai'i Education of the ARTS.
Post condolence messages on the Nu'uanu Memorial Park website or make a memorial gift to the ARCS Scholar Award Fund at UH Foundation.