Sergey Negrashov is an ARCS Scholar at University of Hawaii at Manoa, who graduated in May 2020 with a PhD in Information and Computer Science. When the COVID-19 pandemic hit Hawaii, Sergey became aware of the severe shortage of protective masks available to healthcare workers and first responders in the state. In response, he founded Aloha Mask, a volunteer organization that creates sewing kits in a fraction of the time normally required for the pre-sewing assembly of materials. Sergey used assembly-line production methods to produce the kits. More than 400 volunteer sewers have turned Aloha Mask kits into reliable, high-quality, cloth masks, and 40 drivers have distributed them. Incorporating safety standards overseen by a PhD in virology and atmospheric testing to ensure sufficient air filtration, Sergey states that the masks are serving as a highly effective preemptive measure against possible asymptomatic transmission of COVID-19 for more than 10,000 healthcare workers and first responders.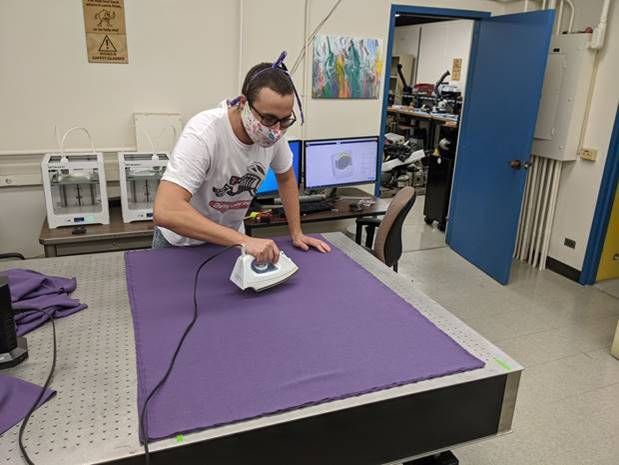 This accomplishment may not have been possible for Sergey if he had not received an ARCS Scholar Award. Due to his own health concerns, Sergey had considered leaving his graduate program. "It was an honor to be selected for an ARCS Foundation Scholar Award during a difficult time in my life," Sergey says. "My ARCS Foundation Award helped me stay on track and finish my PhD."
You can learn more about Sergey's efforts creating mask sewing kits aimed at saving lives here.
---
Along with three other ARCS Scholars, Sergey participated on the ARCS Scholar COVID-19 Panel on June 12, 2020. Below are Sergey's responses to followup questions on his projects to combat COVID-19.
Q: What were the safety guidelines for creating Aloha Mask's version of the masks?
A: Our safety guidelines were developed by a team consisting of a virologist from Oceanit Labs and lab safety personnel from University of Hawaii. Following CDC guidelines for mask sanitization, we used a laboratory oven to heat all the mask kits going out to our volunteers to 70 degrees Celsius for thirty minutes in Ziplock bags. The kits were then considered sterile and were not opened until they reached the sewing volunteer. Our drivers used masks and all the handoffs between the drivers and sewing volunteers were contact-free. Finally, we encouraged the hospitals to treat all the masks we delivered to be treated as infection carriers and recommended that they pass the masks through their laundry system. 
Q: Can the public purchase masks from Aloha Mask?
A: Our masks were never for sale, instead we donated all the masks to frontline workers. Aloha Mask never accepted monetary donations. Instead, all of our donations were in the form of fabric or sewing supplies. 
Q: What kind of research are you engaged in now?
A: I am an Applied Physicist at Oceanit Labs in Honolulu. I work on a multitude of engineering and physics projects, but my specialty is in high-speed communication and electronics design.