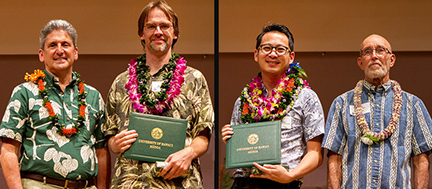 From left: University of Hawai'i President and UH Manoa Chancellor David Lassner, ARCS Scholars Will Best (2017) and Glen Chew (2016), UH Board of Regents Vice Chair Randy Moore at the campus awards ceremony
Two of the University of Hawai'i at Manoa's top three graduate student researchers for 2017 are ARCS Scholars. William Best and Glen Chew are the latest doctoral candidates recognized by ARCS Foundation Honolulu Chapter to also receive the UH Manoa Chancellor's Award for Student Excellence in Research.
Best, who received the 2017 Columbia Communications Award for Astronomy, explores the origin and evolution of brown dwarfs, faint gaseous bodies with masses in between planets and stars, in our neighborhood of the galaxy.
Chew, who received the 2016 Koenig Award in Medicine, focuses on the mechanisms driving immune dysfunction during chronic viral infections in the hopes of harnessing the immune system to prevent, control or eliminate HIV infection and optimize quality of life outcomes.
Five ARCS Scholars have received Chancellor's Awards for Student Excellence in Research in the four years since it was established:
Ryan Gough (2014 ARCS Kresser Award in Engineering) received the 2016 chancellor's award for work on use of liquid metals to create dynamically reconfigurable circuits and antennas.
BJ Fulton (2016 ARCS Columbia Communications Award) received the 2015 chancellor's award for employing robotic telescopes to discover and characterize exoplanets.
Jabran Zahid (2014 ARCS Columbia Communications Award) received that year's chancellor's award for modeling and measuring cosmic chemical evolution to understand galaxy formation and evolution.
"The prominence of our scholars among the Chancellor's Award recipients validates what we already know—that ARCS Foundation truly supports the best and the brightest emerging scientists," said ARCS Honolulu President Patty Lee.